This post will be added to the Garden Lessons Learned meme hosted by Beth at
Plant Postings
.
I haven't written a blog post about garden lessons learned for quite a while. This is not, dear reader, because I now know everything and have nothing left to learn (I know this won't come as a shock to you). In fact, just this past winter my garden has taught me a few lessons. I have learnt:
1. I should be more careful about plant identification.
I'm a little pedantic about botanical names, as a rule. I'm perfectly happy to grow Spring Stars, but I like to know their real name is Ipheion uniflorum. I don't feel any need to correct other people; I just like to know. And add it to my lists, tables and spreadsheets. Okay, maybe I'm more than just a bit pedantic.
But that's exactly why this confession is so embarrassing.
I owe an apology. To a weed.
For years, every winter, I have moaned and complained about all the annoying chickweed (yes, I even knew it was really called Stellaria media) that sprouts absolutely everywhere. Admittedly, each plant is easy to pull out, but there are millions of them, it seeds like mad, and there is more of it every year. Carpets of it, in fact. Like this:
Well, I've just discovered, to my horror, that while this weed is annoying and it does seed like mad and there is more of it every year, it is not, and never has been, chickweed. I have no chickweed in my garden. Sorry, chickweed.
What I have is Veronica hederaefolia, ivy-leaved speedwell. Lots and lots of ivy-leaved speedwell.
This is chickweed, Stellaria media: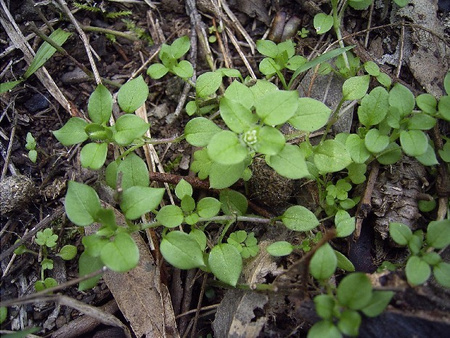 Photo L. von Richter ©The Royal Botanic Gardens & Domain Trust
This is a close-up view of ivy-leaved speedwell, Veronica hederaefolia:
This is what I have (everywhere):
You can't see it from this picture, but when the flowers open they are exactly like the ones above.
The evidence is clear. I am guilty of slander and libel. Sorry, chickweed.
On to more pleasant lessons.
2. Yellow is my favourite colour in winter.
I never used to like yellow flowers much. I didn't hate them, mind you, but I could take them or leave them. Maybe it's that I'm getting older, maybe my eyesight is dimming, maybe the cold of winter is just getting to me more, but for whatever reason,nothing has given me more pleasure in the garden through winter than these very bright yellow pansies.
I could see them from the kitchen window when I was washing up, and they were the first thing I noticed as I stepped outside the back door. There aren't even very many of them, yet they were enough to lift my mood and put a smile on my face. They glowed on sunny winter days, but were almost as bright when the weather was dull and grey. Sunshine in pots. And then, in August, the daffodils bloomed and I was in sunny yellow heaven,
even on days when the sun wasn't around:
I must think of ways to include more yellow in the garden for next winter.
3. I don't want an interesting winter garden.
I have read many garden books and magazine articles that encouraged me to add lots of "winter interest" to my garden. To own a garden with four seasons of interest was held up as an ideal. I always felt my garden failed in this regard because there was very little to see in winter. I don't even have the kind of winter interest provided by a permanent structure of hedges. Then, this year, something changed.
I began to realise I don't want a four-season garden. Three seasons are plenty. As autumn progressed, I began to long for the time I could cut perennials down and begin to see some bare space between the plants. They looked overblown and blowsy, like guests who had stayed too long at a party, drunk too much, become loud and pushy, flopped about all over the place and should really act their age and just go to bed.
I just wanted to put my partied-out garden to sleep for the winter and start afresh in spring. And as I tidied each section, I gazed upon it with huge satisfaction. It didn't look bare and empty. It looked restful. It made me feel relaxed, as if the garden and I finally had some time and space to breathe.
Next year, I'm sure I'll enjoy looking at photographs of busy winter gardens, bursting with interest. I'll admire them and respect their creators.
But in my own garden, I'll be revelling in all the bare spaces, along with the occasional
Iris unguicularis.
And I'll be breathing deep.